Your generous gift will help bring hope to Haiti!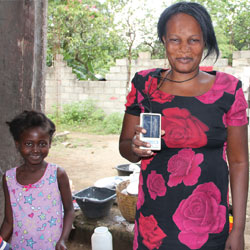 One solar radio can reach a household of approximately 6 people, broadcasting the life-changing message of hope from Radio 4VEH for years to come. The radio also includes an audio Bible in Haitian Creole, especially helpful for those who can't read.
Click here to make an online gift today!

---
Or Consider These Other Ways to Give:
God's provision for the Resounding Hope initiative will come in many forms. Please consider giving other types of gifts:
Donations toward a HopeRaiser's fundraising goal
Cash
Business interests
Assigned insurance
Appreciated stock or real property
Royalty and lease income interests
Life estates, bequests, trusts & annuities
Or mail in your donation, payable to 4VEH, with "Resounding Hope" in memo line to:
4VEH, The Evangelistic Voice of Haiti, Inc
P.O. Box 1931
Columbus, IN 47202, USA
Questions?
Please see our FAQ page for details or call us directly at 812.848.4834