Dear Friends,
Haiti is a country close to all our hearts. We've seen the devastation brought on by disaster. My fellow missionaries and I continue to see hardship up close, year after year. However, we also see an enormous opportunity opening up before us to reach one million people with the hope of Jesus…but we need your help to accomplish this.
Did you know that some of our most energetic partner churches in Haiti began after solar radios, tuned to Christian Radio 4VEH, were given out in their communities? During the recent Operation Saturation initiative and through ongoing radio distribution, we were able to deliver radios with a trained Gospel witness and saw many Haitians come to Christ immediately after receiving the radio. Others are left with the radios, allowing their hearts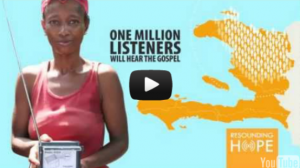 to be touched by the Holy Spirit.
Now, through the Resounding Hope initiative, local churches are doing even more evangelism together. Church-based teams use the radios to open doors for outreach in new neighborhoods and villages, and we are seeing many come to Christ. And, as churches disciple new believers, their efforts are supported by Radio 4VEH's daily Christian and community programming provided through the radios. For me, it's not just the potential impact of the radios that excites me but the unlocked potential of the Church.
We pray you'll join us in Resounding Hope in Haiti. Please consider sponsoring one or more radios today. Thank you for your consideration, your partnership and your prayer.
In His Service,
Brett Bundy
OMS Haiti Field Director