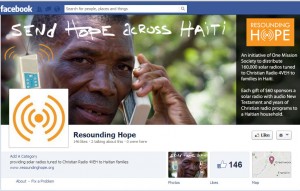 Have you seen our new cover photo on the Resounding Hope Facebook page?
Photographer Kate Michel shares the story behind the photo:
We'd had a good day of sharing the Gospel and giving out solar radios in Dubout, near Limonade, northern Haiti. Many conversations about Jesus with villagers there, and several people turned to Jesus as their Lord and Savior.
But my favorite memory is of this man.
When Georges heard sounds coming out of the radio, he held it up close. As the voice of Storly Michel started speaking the words at the beginning of the Gospel of Matthew (Storly's reading of the New Testament in Haitian Creole is on each radio as an MP3), Georges started responding, "Wi,…wi,…wi" ("Yes…yes…yes").
It struck me that the whole Bible is basically God talking to us. Telling us through history, through the lives of people like Moses, like David in the Old Testament; like Paul in the New Testament, that He loves us and wants us to redeem us. What's our response?
As many more radios are given out to people in Haiti, will you pray with me that they will respond by saying "Wi…yes!" to the Savior.
—
Please join us on Facebook for more info, updates, praises & prayer requests.  Just visit Resounding Hope Facebook page and click "Like". And ask your friends to join too!
Did you know you can share this article on Facebook, Twitter, by email and in other ways by clicking the share buttons below?  Thank you for helping us spread the word about Resounding Hope in Haiti.