Guest post by Shannon Rice:
For the Mission Focus for our Vacation Bible School this summer at Niceville UMC (Niceville, FL), we asked kids to earn money to give to Resounding Hope so kids and families in Haiti may receive a radio and hear about JESUS! One challenge was to count all the sound devices we have in our homes (radios, stereos, phones, TV, computer, iPads, iPods, etc) and to bring in $0.25 for each one.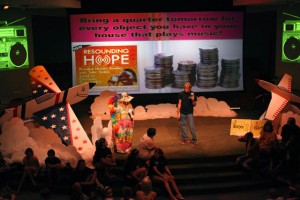 They were not just asking for the money, they earned it—sweeping the floor, walking neighborhood dogs, cleaning a brother's closet, washing dishes, etc.
One group of young ladies chose to earn their donations with a lemonade stand. We've loved hearing stories of children developing a heart for helping others. They see a vision where they make a difference!
Our VBS focus is 'Everything is Possible with GOD!  Trust God!' and we are seeing this in action!
Editor's Note: Niceville UMC set their fundraising goal at $3000—which they completely blew out of the water, raising three times that amount. They have sponsored 153 radios, to bless 153 families in Haiti every day with the hope of Jesus. Thank you Niceville Kids!  
Check out resources you can use with the kids in your life and order coin banks to start collecting for radios today!