By Kate Michel, Marketing & Communications Director, Radio 4VEH / Resounding Hope
It was fantastic to have several short-term mission teams join us in Haiti this summer!
They came from all over (Northern Ireland, England, Indiana, Kansas, Kentucky, the Carolinas and beyond) to help on two major projects to advance the kingdom in Haiti through the radio ministry: delivering Resounding Hope solar radios with the Gospel message to Haitians; and construction to restore the Radio 4VEH AM transmission site at Petite Anse.
And they were ready to get stuck in, pouring out sweat, heart and soul to serve God and others. As they did so, we were in awe at how God had prepared these people for the purpose He'd given them, whether it was their skills in construction, their testimonies or their attitudes of service.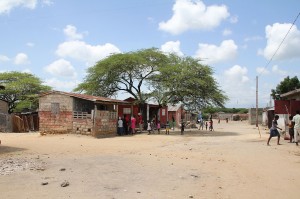 One day, we headed about two hours' drive east of Cap-Haitien, to the dusty town of Dérac, near the Dominican Republic border. After preparing with the local church, organizing teams for evangelism in the town, and praying, we all set out to go house-to-house and share the Gospel.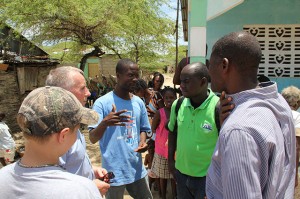 When I joined up with one team, I found Elijah (from Indiana), Martin (UK team) (from the left), and Elima and Rosa (from the right) in conversation with Jacques (blue shirt). Rosa translated for Martin and Elijah's benefit, saying, "Jacques wants to accept Jesus."
As the conversation moved into the man's shack home, and Jacques continued sharing his story, my eyes started welling up with tears as I recalled the conversation Martin and I had had in the back of the truck on the way here. Martin had been a drunk, neglecting his family, until he ended up in church (where his wife attended) and heard the Gospel for the first time. His face beamed as he told me how God had transformed his life.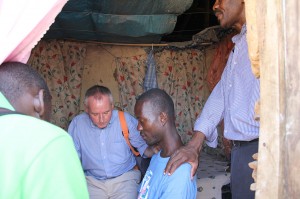 Now standing at the door of this Haitian man's small home, I had a God-moment as I realized God's in this, He's planned this, His fingerprints are all over what's going on right now. Why? Because Jacques was having troubles in his marriage, and he knew he needed the Savior. Martin shared powerfully how God had transformed his life, his marriage and his family – not overnight, but slowly as Martin lived out the new life he had found in Jesus. And Jacques came to Jesus.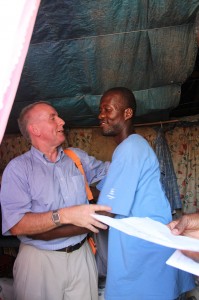 And Martin was there to witness Jacques making that life-changing decision for himself, as Elima led Jacques in a simple sinner's prayer.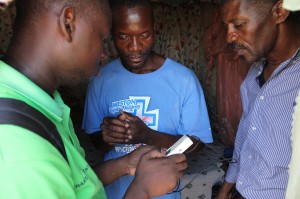 Rosa and Elima (both radio presenters with Radio 4VEH) show Jacques how to use his new 4VEH solar radio/audio New Testament, letting him know when he can hear them on the radio. They also took his phone number to stay in touch, and urged him to connect with the local church for support.
— Published in ACTION, magazine of Men for Missions, a ministry of One Mission Society.
READY TO TAKE THE NEXT STEP?
Are you interested in being part of an evangelism & radio distribution team like this one?
Just fill in the form on our Visit Haiti page and get more details.