GIVING HOPE
The Gospel is at work as our staff, local churches and visiting mission teams share about Jesus in neglected rural areas and give families a solar radio to speak hope and help every day. For many, the solar radio, preloaded with the audio Bible in Haitian Creole, is the first Bible they've ever owned. For those not ready to say yes to Jesus on the day of outreach, they will say yes to a radio. Then they hear the Gospel every day, and many people come to Christ.
HELPING FAMILIES
Together, we're reaching families in areas of deep poverty, with no reliable electricity, where many people can't read and Voodoo keeps them trapped in fear. Our solar radios give hope and help each day, helping unbelievers hear the Gospel, encouraging believers to grow in faith and serving everyone who listens in Jesus' name.
THANK YOU FOR GIVING, PRAYING AND GOING
…SO THAT HAITIANS HEAR HOPE
We thank the Lord for every life changed through Resounding Hope over the last five years, and for everyone who is helping share the Resounding Hope of Jesus across Haiti.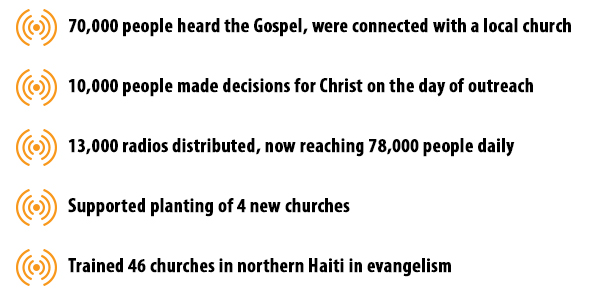 As we celebrate these results, we press on towards our goal of funding and distributing 160,000 solar radios to impact one million people in Haiti. Will you help by sponsoring a radio for a Haitian family today?