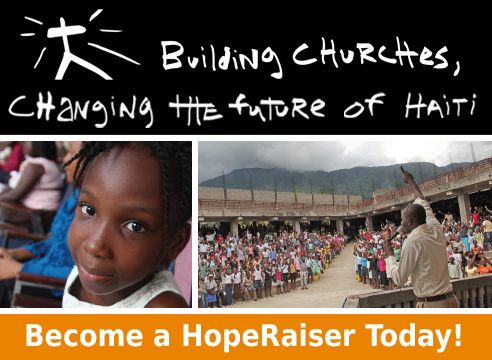 Our mission is to bring hope to 1 million desperate Haitians. HopeRaisers make it possible.
What is a HopeRaiser?
When you sign up as a HopeRaiser, you are affirming your personal commitment to support the people of Haiti.  HopeRaisers play an important role in the Resounding Hope mission by helping raise funds to sponsor solar radios tuned to Radio 4VEH.  We're aiming to distribute 160,000 solar-powered radios – with broadcasts reaching roughly one million desperate Haitians in need of hope.  But to reach our goal, we need you!
How do I Become a HopeRaiser?
Sign up to become a HopeRaiser and receive your personal online fundraising webpage where friends and family can show their support with a secure donation.  Fundraising has never been easier!  With Resounding Hope's online fundraising tools and ideas, it only takes a few simple clicks of your mouse to help spread God's Good News across Haiti.

Joining is as easy as 1, 2, 3. The first step is to tell us about yourself! Fill out the form below and we'll guide you through the next steps to building a page and beginning the fundraising process.
Step One: Tell Us About Yourself
Grow your spiritual gift of faith. Make a faith pledge for raising tens, hundreds or thousands
of radio sponsorships in the next three years. Invite your family, friends and colleagues to join
you in sharing hope in Haiti.
[gravityform id="4″ name="Become a HopeRaiser" title="false"]